Our passes provide you with the opportunity to visit area museums, attractions, and venues for free or reduced admission prices. Museum & Events passes are funded by the Windsor Library Association.
Now you can go straight to your destination without stopping at the library! Many of our passes allow for printed barcodes that museum or attraction staff can scan. For Windsor residents, simply look for the  
 icon next to the museum name, reserve it, and print it out up to 3 months ahead of time.
For venues that don't have this icon, Windsor residents can reserve the pass up to 3 months ahead and check it out in the library up to one day before your planned trip.
(For Events Passes, please confirm your show/game date before reserving the Events Pass on our website)
Availability: Only Windsor residents may reserve passes up to 3 months in advance. Non-residents need to use same day service. Same day service is handled on a first come, first served basis regardless of residency status. Generally, passes are used most heavily during summer months, so please consider other patrons before booking any given pass more than once during the summer.
Passes are very popular, so please cancel your reservation if you can't make it so that another patron can enjoy a visit to the destination.
Check Out / Return: Printed passes do not need to be returned to the library. Checked out passes may be picked up after 3 p.m. the day before your visit and then returned by 10 a.m. the day after. They are not renewable. For same day service, passes may be picked up after the library opens at 10 a.m. and must be returned the following day.
Overdue & Loss: Overdue fee is $10.00 per day if checked out pass is not returned on time. Patrons are responsible for the full purchase price in the event a pass is lost. These costs range from $65 to $250.
Questions? Call the library at 860-285-1918.
This Fall at the Florence Griswold Museum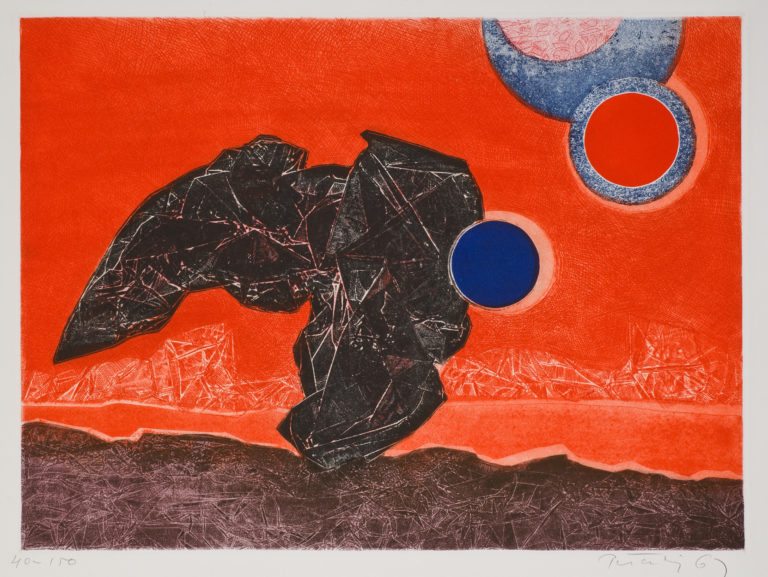 Gabor Peterdi, Red Red Eclipse, 1967. Color etching and aquatint on paper, 17 5/8 x 23 5/8 inches. Florence Griswold Museum, Gift of Charles T. Clark
SEPTEMBER 29, 2018–JANUARY 27, 2019
Paper Trail: American Prints, Drawings, and Watercolors
This exhibition follows the "paper trail" of acquisitions and gifts made to the Museum over its long history to examine how artists' approaches to process­­, including drawing, etching, painting, and lithography, connect and speak to each other over time. In addition to showcasing artists at the Lyme Art Colony, collection highlights include works on paper by Anni and Joseph Albers, Fidelia Bridges, James Daugherty, Sol LeWitt, James Martin, Thomas Nason, and Mary Way.
This pass is valid for free admission for 2 adults and 2 children. The Florence Griswold Museum fosters the understanding of American art, with emphasis on the art, history, and landscape of Connecticut. It is centered on the home of Florence Griswold, which was the center of the Old Lyme Art Colony, the main center of development of American Impressionism.